AIRTRANSA OBTAINS GDP CERTIFICATION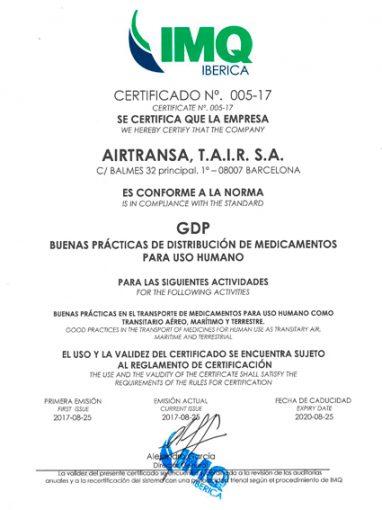 AIRTRANSA OBTAINS GDP CERTIFICATION
AIRTRANSA obtains the Good Distribution Practices / GDP certification, according to the guidelines of the European Commission of November 5, 2013 (2013 / C 343/01).
This certification guarantees our customers the maintenance of the safety and quality of their products throughout the transport chain, taking into account the key aspects (temperature control, documentary system, validations, training, risk analysis, safety, traceability) so important for the Pharmaceutical Industry.
The GDP certification joins the ISO 9001 and ISO 14001 certifications which direct Airtransa towards business excellence.